Its the time of year again when the heavens cry... the puddles, the muggy weather, the wetness! Something about it that makes everybody lethargic, sleep more, crave for hugs, stay in under thick fleece sheets... So what have I been up to lately... What goes on in the mind of Wentletrap... My Thoughts and my feelings....

The rainy season... I like the idea of a cold weather as I have this thing for wearing "wintry" layered outfits and dead animals! And I hate bringing an umbrella, so when it rains, im wet! And who likes damp clothes and wet shoes... and soggy socks?! eww... they are the worst! But thats not bad compared to the cancelled meetings and appointments and the hassle of going to places and the like. When it rains, cars multiply like gremlins and everybody seems to be out at the same time taking every available transporation and road space. The malls are crowded (I hate crowds), everything takes forever to deliver basically, everything slows down!

At the homefront, I just all of a sudden become the sloth that I really am,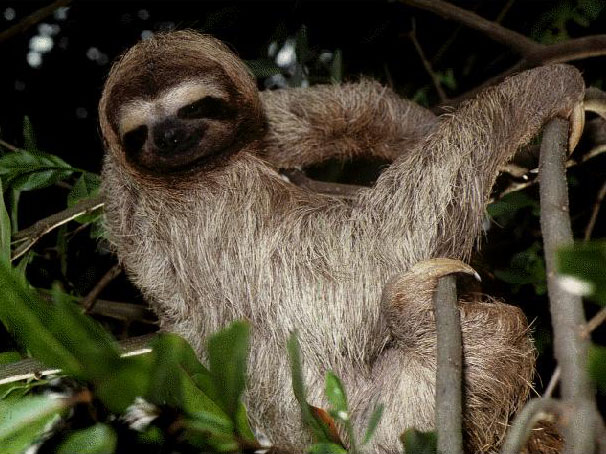 but when it rains, im just it a big SLOTH! It will take a cataclysmic catastrophe, or I'd probably just wont mind, to get me out of bed, under those 1500 thread count sheets... hayyy i love to run my toes and fingers over them sheets =) ...today, i was suppose to do some work, scouring for furnitures, lights and appliances, but the weather was just so bed friendly that I ended up sleeping the whole day! Too bad, no one was hugging me...it would have made the whole experience more enjoyable! Ha! but who's complaining, I just had a blast sleeping and rolling and harrassing my 20++ year old pillow...

Ok, ok... I honestly am having blogger's block... but I know I have a point somewhere..hahaha... let me try to be more philosophical this time....

The rain is an analogy to sadness... (serious ba to?), it is also associated with luck and blessings. Some people call it the tears of heaven. So how does this all relate to me? I have no idea! haahah....


Sadness. Well, I have been down lately. Feeling depressed is a recurring part of me, but in the end I rise up to the occassion and let that feeling dissipate. The weather is not helping honestly, it is just making me lethargic and even more depressed. I like to go out, i like to visit new places, meet new people. I need something to do...

Luck and Blessing. With regards to this one, I will not disagree. Its true, the rain is a blessing not only for those that prays for rain, but also for me... for the longest time, I have been complaining of lack of sleep due to work but now, I get to sleep for as long as I want... hahaha... because I don't have work na. Well, I kinda still do... but its another story. I get to hang out with my sis at home and boss her around, to cook me bfast, lunch and dinner, and buy me stuff I dont really need, and eat her stash o
f foodies! It also give me time to think and ponder about what I want and gives me no excuse not to blog.

Tears of Heaven. I guess, the earth is emphatizing with what and how I feel. Or, im just being too psycho. Its just rain! We really dont have to be to psychoanalytical about the whole thing...

...but yeah, good things and bad... everything has its reason and its place... and im blabbering with no apparent point.... so ill cut this short... this is it for entry no. 45!

Read More......